Director of Operations
Anita Balhorn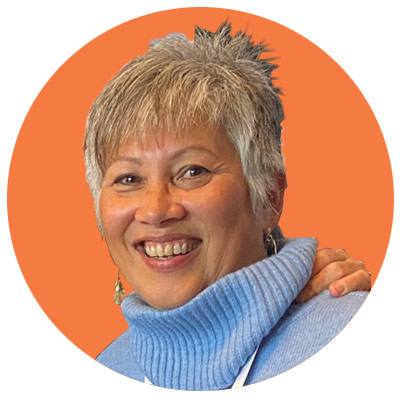 My journey has really evolved around my children. I started in Paediatrics, Neonates and then as I started to have my own children I kept going along that path. I went into Public Health once they started school and then really stumbled into youth health. I stumbled into developing a school-based health model and then it just kept growing from there but it was also about the fact that I really liked working with young people. I love their unique passion, their genuineness and their hopefulness. I really enjoy working with Māori and Pacific and it would really be disappointing when you could see that young people were floundering and often there wasn't actually anything seriously wrong, except the anxiety of not having someone they could talk to.

So that drove me to look at what other services we could develop for young people and how can they be involved in it. It just kept growing from there, my network with all these wonderful people and others that have really helped shape my knowledge and skills. It has been a wild ride and I have loved every minute of it!
My journey includes:
Developed first comprehensive school-based health centre in South Auckland (AIMHI project) including pilot research (access to school-based health care) for Youth 2000 – published in Medical Journal
Project Coordinator to improve access to health services for CYFS (now Oranga Tamariki), including Developed youth health services in CYFS residences
Wellbeing Outcomes Model for high risk and vulnerable young people in the care of Oranga Tamariki & Police (YCAP)
Supported Hawkes Bay DHB with Youth Health Strategy 2016 -2019
Provides consultancy/ project management
Health assessments and Wellbeing profiles for young people supported by Oranga Tamariki
Facilitates Youth Health training workshops nationally

Project Lead – SBHS Workforce development and support plan
Nicky Skerman
Nicky comes with passion and a history of working with the diversity of families that make up Aotearoa New Zealand. "My special interests are working in the areas of children and youth".
My husband and I live in Hawkes Bay. I am a registered Nurse and a mother to four grown children.
My previous roles have been with Whanau Awhina Plunket as a Plunket Nurse and Clinical Leader, Hawkes Bay DHB as the Population Health Strategist for Women, Children and Youth, and most recently in the Well Child Tamariki Ora team and the Ministry of Health.
Nicky has extensive experience building strong relationships across the primary and secondary sectors that has been built on integrity, honesty and trust.
Rangatahi Māori Advisory Ropu Coordinator
Maraea Nikora
Maraea brings a variety of experience from
the tertiary education, not-for-profit & health sectors and a
keen interest in the business sector. "My career started many years ago as a peer educator working at Te Ahurei a Rangatahi, a hauora focused youth service based in Hamilton in the Mighty Waikato. It was here where I grew a desire to always pay it forward and attempt to positively influence, support and provide opportunities for young people in a similar way others have provided opportunities for me."

Prior to joining SYHPANZ, Maraea has been working with Te
Whatu Ora Health New Zealand, as a Regional Account
Manager; Wintec as Industry Relationship Manager;
Waikato District Health Board, Public Health Unit as a
Health Promotion: Professional Advisor; Community
Waikato as a Youth Development Advisor among other
roles.

"I'm excited to be supporting the SYHPANZ Rangatahi
Māori Advisory Rōpū and be part of their journey to
positively influence change for now and in the future."
Maraea resides in Kirikiriroa, Hamilton with her 6 children
and continues to have a passion to work for the benefit of
our current and future generations.
Administrator
Jan Clarke
Kia ora,

I'm Jan Clarke, Administrator providing support to the SYHPANZ Executive Committee and my operational colleagues. I have worked within paediatrics and adolescent health for a number of years, assisting community child health programmes, the Gateway health assessment process and working with Oranga Tamariki. I live in the Manawatu with my husband and newly acquired puppy Bob. Our sons are young men, one has left the nest and one has returned and about to fly again. We have an old classic car and we enjoy taking it out for a spin and visiting gardens. I admire the vision, planning and unwaning energy that is essential to develop a garden for all to enjoy. My own garden is very much a "work in progress" and now the rabbits are staying firmly behind the fence thanks to Bob! I look forward to digging further into my role as administrator, and like a garden, watching SYHPANZ continue to grow and flourish.
Contact us
| | |
| --- | --- |
| Anita Balhorn | anita.balhorn@syhpanz.co.nz |
| Maraea Nikora | maraea.nikora@syhpanz.co.nz |
| Nicky Skerman | nicky.skerman@syhpanz.co.nz |
| Jan Clarke | admin@syhpanz.co.nz |
| | enquiries@syhpanz.co.nz |