Director of Operations
Anita Balhorn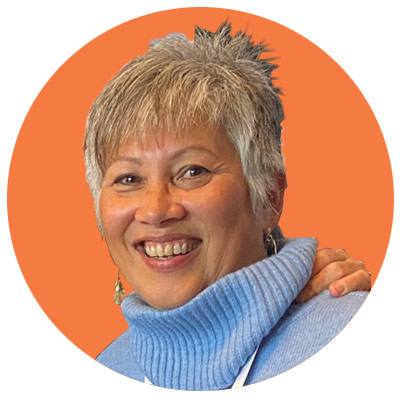 My journey has really evolved around my children. I started in Paediatrics, Neonates and then as I started to have my own children I kept going along that path. I went into Public Health once they started school and then really stumbled into youth health. I stumbled into developing a school-based health model and then it just kept growing from there but it was also about the fact that I really liked working with young people. I love their unique passion, their genuineness and their hopefulness. I really enjoy working with Māori and Pacific and it would really be disappointing when you could see that young people were floundering and often there wasn't actually anything seriously wrong, except the anxiety of not having someone they could talk to.

So that drove me to look at what other services we could develop for young people and how can they be involved in it. It just kept growing from there, my network with all these wonderful people and others that have really helped shape my knowledge and skills. It has been a wild ride and I have loved every minute of it!
My journey includes:
Developed first comprehensive school-based health centre in South Auckland (AIMHI project) including pilot research (access to school-based health care) for Youth 2000 – published in Medical Journal
Project Coordinator to improve access to health services for CYFS (now Oranga Tamariki), including Developed youth health services in CYFS residences
Wellbeing Outcomes Model for high risk and vulnerable young people in the care of Oranga Tamariki & Police (YCAP)
Supported Hawkes Bay DHB with Youth Health Strategy 2016 -2019
Provides consultancy/ project management
Health assessments and Wellbeing profiles for young people supported by Oranga Tamariki
Facilitates Youth Health training workshops nationally

Contact: anita.balhorn@syhpanz.co.nz

Administrator
Jan Clarke
Kia ora,

I'm Jan Clarke, Administrator providing support to the SYHPANZ Executive Committee and my operational colleagues. I have worked within paediatrics and adolescent health for a number of years, assisting community child health programmes, the Gateway health assessment process and working with Oranga Tamariki. I live in the Manawatu with my husband and newly acquired puppy Bob. Our sons are young men, one has left the nest and one has returned and about to fly again. We have an old classic car and we enjoy taking it out for a spin and visiting gardens. I admire the vision, planning and unwaning energy that is essential to develop a garden for all to enjoy. My own garden is very much a "work in progress" and now the rabbits are staying firmly behind the fence thanks to Bob! I look forward to digging further into my role as administrator, and like a garden, watching SYHPANZ continue to grow and flourish.
Contact: admin@syhpanz.co.nz
Communications Coordinator
Deborah Baker
I live in in Tāmaki Makarau with my husband and two young sons. I have been working in marketing communications for over 19 years in a variety of industries, most recently focusing on roles in communications in the health sector. Working at the Liggins institute, CanTeen and an organisation supporting people with a variety of rare Neuromuscular conditions. What I learnt working in these roles is how under-represented and served our rangatahi are and how concerning that is to me, not just as a mother but as a New Zealander concerned about the future of this country. They are at a vital time in their lives when they need guidance and support and are often overlooked, so when the opportunity came up to join the whānau at SYHPANZ – I was all in.
Contact: enquiries@syhpanz.co.nz