COVID-19 communication resources for Oranga Tamariki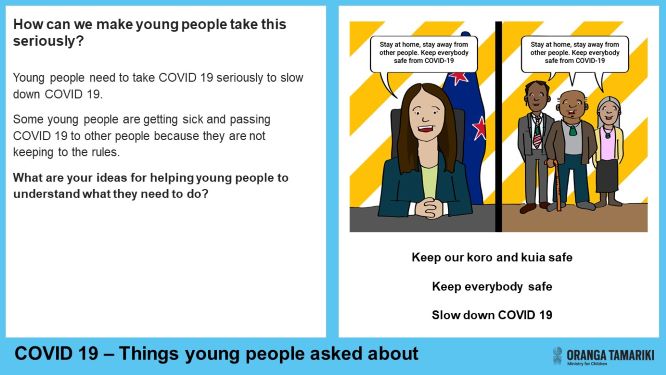 These COVID-19 resources have been created in partnership between the Talking Trouble team (speech-language therapists and artist) and Oranga Tamariki staff. They are designed to provide clear information for young people about
what COVID-19 is
what they need to do to stay well and healthy
what to do to get help.
The resources have been designed for Oranga Tamariki staff to support communication with young people and whānau. The language and literacy level has been designed to be communication friendly/accessible. They created a suite of tools so that if the literacy level in the resources was too challenging, they could be explained by someone verbally. There are also some videos using the resources so that people can hear the key information, alongside images that support the key messages. They are provided in a range of formats so they can be printed, emailed, texted or used on social media, or adapted for individuals. Oranga Tamariki are also making video resources, such as this one for young people who may need Transition Support currently. For more information go to https://talkingtroublenz.org/presentations-publications/covid-19-communication-resources-for-oranga-tamariki/ .